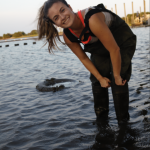 Jordan Gossett
Zoology Ph.D. Student
E-mail: jgossett @ hawaii.edu
Education
2016 M.S. Marine Biology, University of North Carolina Wilmington
2013 B.S. Marine Biology, University of North Carolina Wilmington
Interests
I am broadly interested in evolutionary relationships and specifically in topics such as population genetics, population connectivity and gene flow in open systems.
Previous Research
Larval Dispersal Patterns
In both marine and terrestrial species, larval dispersal is an important factor in determining the gene flow and genetic structure of a population. The eastern oyster, Crassostrea virginica, is an ideal organism to study in order to better understand patterns of larval dispersal. C. virginica is a broadcast spawner that resides along the eastern coast of the United States. They exhibit high fecundity levels as well as a relatively long pelagic larval duration. Due to these factors, the level to which C. virginica populations exhibit any genetic structure has long been debated.
Through use of various molecular methods as well as parentage analyses, we are finding that despite little genetic structure on a broad scale, C. virginica shows patterns of significant genetic structure on the scale of individual reefs. These findings have important implications for reef restoration projects, as we have seen a drastic decline in global oyster reefs in recent years.